Dunlop SportSmart 2 Tyres Available in High Peak, Tideswell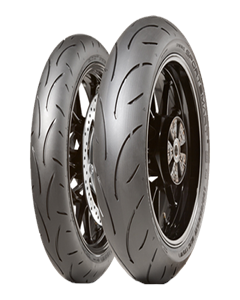 SportSmart 2
Dunlop's new technologically advanced tyre for sport bikes takes its name from SportSmart x SportSmart = SportSmart², delivering comfort, superior handling*, optimised wet and dry grip, durability and high speed potential.
The technology behind SportSmart² has been developed by Dunlop's European reseach and development team and is derived from products that have proved to be winners in racing, such as the D212 GP Pro.
Key benefits
Grip is enhanced by using Multi-Tread technology on the rear tyre with a specific shoulder compound for better cornering in wet and dry conditions
Reverse direction centre tyre pattern on the front enhances water drainage for further improved wet performance
Improved handling achieved by the use of new front tyre shape and construction delivering faster turn-in, accurate line holding and braking stability in corners
High comfort due to use of JLB and JLT technologies, fewer components, new tyre shape and lighter tyres
High speed capability up to 300KPH → Speed Index
* Compared to SportSmart
Sorry, we currently do not have any tyres with the SportSmart 2 pattern in stock.
Contact us to see if we can order these in for you.