Dunlop Sportmax Mutant Tyres Available in High Peak, Tideswell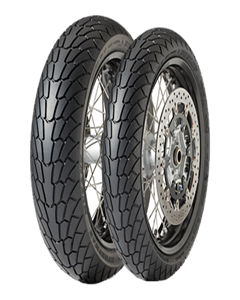 Sportmax Mutant
Supermoto has got nothing to do with going fast in a straight line, it's all about 'knee-out' fast cornering and sliding the rear whenever you get a chance on the track. The Mutants' front and rear thread pattern designs are perfectly matched to help you stay on the right side of the limit, whenever you go looking for it. With a wide footprint and lightweight casing they give class-leading feedback, predictability and an instant response to your steering input.
Continuous braking, sliding and accelerating on tarmac puts tremendous strain on the tyres, so don't compromise, choose our Sportmax Mutant, it won't let you down. Designed to face all challenges on wet or dry tarmac, you can even trust it for moderate off road use.
Key benefits
Lightweight casings, specific mono-ply construction on front and JointLess Belt (JLB) constructed rear
Wide footprint allows for superb maneuverability and total control when sliding through corners
Aggressive tread pattern allows high performance in all conditions, including moderate off-road use
Front and rear selected tread compounds offer durability and grip on wet and dry surfaces
Sorry, we currently do not have any tyres with the Sportmax Mutant pattern in stock.
Contact us to see if we can order these in for you.